Emotions in Motion: Mastering Life's Built-in Navigation System
By Ilene Dillon with Arlene Gale
Every life story has a beginning, middle and end.
It's a more fulfilling journey when Emotions are in Motion through it all.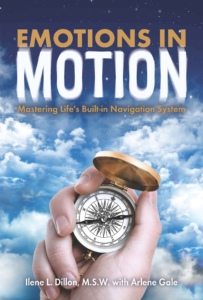 If you think handling emotions (yours or someone else's) is impossible, mysterious, filled with danger, and causes pain and suffering, it's time you update. By understanding 12 key emotions, and the message and lesson each bring, you'll resolve these mysteries and create smoother, happier and healthier relationships with yourself and others.
Read Emotions in Motion: Mastering Life's Built-in Navigation System, and You'll Discover Emotions Are:
Designed as a 24/7/365 Lifetime Personalized Mentor

Energy created as a gift for your lifetime

Easy to work with when you know the message each one brings

Designed to develop personal power and make life easier
Filled with real-life stories that speak to your heart and illustrate the power of Emotional Mastery, Emotions in Motion introduces the idea that Earth is a school, to which you've come in order to learn and grow, and includes a powerful invitation to embrace learning to create a much more successful and fulling life.